null - Commercial Real Estate Blog | Avison Young
Avison Young's commercial real estate blog
A strategic and flexible mindset for the future of commercial real estate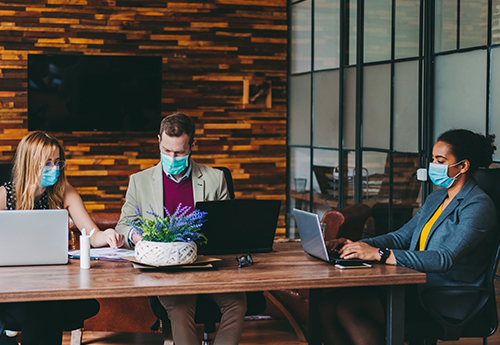 January 8, 2021
An update on Avison Young's COVID-19 work from home option, our return to office approach and the future of work for clients and our Avison Young family
In 2020, we saw the power of adaptability, patience and the need to deliver workplace solutions to clients when "one-size would not fit all." We all learned to work remotely, and we navigated new work-life integration challenges admirably. We continued to innovate and grow, driven by a common purpose to create shared economic, social and environmental value. Now, with new vaccines in circulation, we are beginning to see a path for a safe return to the office, while also monitoring the impacts of the pandemic around the world.
The pandemic has been a catalyst for our industry to advance the most exciting change it has ever gone through in rethinking the role of the workplace. This change was well underway before any of us had heard of COVID-19. The pandemic has accelerated the thinking around workplace experience and portfolio optimization, using data and technology to make better decisions about real estate's role in the world around us.
This a complex, evolving matter, but there are two things we firmly believe:
First, the office is fundamentally important. It's a place where ideas, collaboration and innovation take place. They require proximity to flourish. It is how we best serve our clients and develop our talent. Therefore, our intention is to bring our people back to the office as local conditions permit in 2021.
Second, our culture is powered by people. Client and staff wellbeing are at the heart of our decision-making. We look after one another. We've asked for input. And we've listened.
Here's what our clients, partners and teammates can expect:
Re-imagining the workplace and what constitutes performance and flexibility. Subject to local regulations, our offices remain open today and our global COVID-19 "work from home" option is extended to April 6, 2021. After April 6th, given our experience and the evolution of the pandemic, we are expecting our staff to return to the office, yet it is clear we will not be able to fully return at the same time and in the same way. As we enter the new year, our leaders, backed by our Return to Office Committee guidance, will work with their people to determine the right timing and mix of in-office and remote work that is responsive to local conditions and teams will be provided with four weeks' notice of the end of the office's COVID-19 work from home option. There is no one-size-fits-all solution and we are redefining the combination of office, flex and work from home that constitutes best practices. We trust our people to work with their managers to balance this according to their job requirements, caregiving, wellness and personal needs, and local restrictions.
Reimagined office experiences. Just as we are counseling our clients on how to design X Factor office experiences, we're beginning to pilot office innovation in some of our markets with employee wellbeing at the centre. For example, in Los Angeles, Atlanta, London and Toronto, we'll be implementing office design strategies tailored to our people's needs for optionality in their work and collaborative spaces. Starting with Dallas, our offices are intended to become WELL-certified, a designation for advancing health and wellbeing in buildings; we've implemented different settings for employees to choose from and flexible working spaces to adapt to changing workstyles with a thoughtful design that places a priority on employee health and happiness. This is just the start of the future of work at Avison Young in the coming years.
Advanced collaboration technology. As our space dynamics evolve, we are migrating our offices to the leading technology, tools and spaces to ensure inclusive collaboration across the spectrum of office-based and remote work. We'll build on the efficiency we've begun to establish, anchored by Microsoft Teams, and introduce a new digitally-based consolidated communications platform that will keep our people informed, creating, and sharing — wherever they are working. At the same time, we also want to encourage people to be mindful of their technology consumption; for example, limiting the number of video calls each day for eye health and mental wellness.
With a strategic growth mindset, you believe that your abilities can be developed – your know-how and talents are just the starting point. Though none of us foresaw the events of the past year, we have responded resiliently, with dedication and hard work, looking after our clients and one another. Of course, no one asked for Covid-19 or the anxiety, isolation and loss that came with it, but the pandemic allowed us to advance digitization, technology and data solutions, wellness and our brand purpose that is driven by culture and powered by people.
As we enter 2021, we will continue to navigate variability in the places we live and work in the built environment around the world and respond in the best interest of our clients and our people. As we look toward the future, we are optimistic about how we will take our strategic mindset forward.

Mark E. Rose, Chairman and CEO
Martin Dockrill, Global Chief Operating Officer
© 2023. Avison Young. Information contained in this report was obtained from sources deemed reliable and, while thought to be correct, have not been verified. Avison Young does not guarantee the accuracy or completeness of the information presented, nor assumes any responsibility or liability for any errors or omissions therein. All opinions expressed and data provided herein are subject to change without notice. This report cannot be reproduced, in part or in full, in any format, without the prior written consent of Avison Young.