Avison Young's commercial real estate blog
A primer on Data Centers in the age of remote working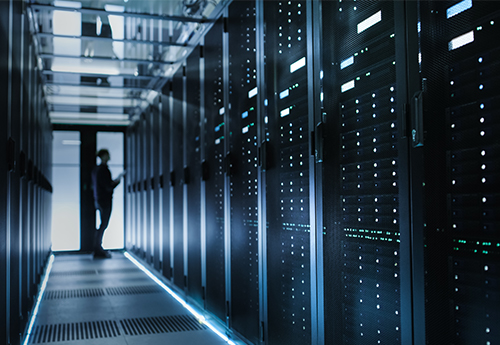 March 22, 2021
2020 has been a year full of terms like "unprecedented" and "unanticipated."
Every industry has been affected in some way by the COVID-19 pandemic and economic fallout around the globe. Strategic and business model change has translated, and continues to translate, into new challenges and priorities for corporate leaders.
For the CIO and the whole IT organization, 2021 brings with it the imperative to generate more business value using innovative technologies and approaches to information. And, despite the challenges, a great opportunity exists to transform business operations and models from the ground up, enabling the organization to respond to future disruption quickly and strategically.
CIOs already proved they can get thousands — if not tens of thousands — of workers set up remotely in just weeks. But the shift to remote work is expected to persist even after the pandemic. Fifty-two percent of CIOs expect work from home to increase in 2021. The challenge going forward will be funding and rightsizing the appropriate assets to support remote and hybrid workforce models — from individual technologies to real estate.
What are your options and what is our recommendation for the best path forward?
Let's begin with some terms and definitions:
What are the types of data centers?
There are four main types of data centers:
Hyperscale data centers
Private data centers
Hybrid cloud data centers
Co-location data centers
What is a hyperscale data center?
A hyperscale (or enterprise hyperscale) data center is a facility owned and operated by the company it supports. This includes companies such as AWS, Microsoft, Google, and Apple. They offer robust, scalable applications and storage portfolio of services to individuals or businesses.
What is a private data center?
In a private data center, you'll have dedicated infrastructure, and all of the same resources available with an on-site data center so that you can perform personalized management functions that your business requires.
What is hybrid cloud?
Hybrid cloud is a solution that combines a private cloud with one or more public cloud services, with proprietary software enabling communication between each distinct service. A hybrid cloud strategy provides businesses with greater flexibility by moving workloads between cloud solutions as needs and costs fluctuate.
What does co-location data center mean?
A co-location data center is a physical facility that offers space with the proper power, cooling and security to host businesses' computing hardware and servers.
Often, co-location providers lease space to various tenants looking for co-location services – including network providers, cloud providers, and enterprises.
Co-location facilities offer scalability, continuity and security for applications, data and systems and often provide access to the most advanced data center technology, while removing the need to build, staff and manage in-house server rooms or data centers, giving clients the ability to focus on their business.
What does co-location really mean?
A co-location facility, or colo, is a data center facility in which a business can rent space for servers and other computing hardware. Typically, a colo provides the building, cooling, power, bandwidth and physical security, while the customer provides servers and storage.
What's the difference between cloud computing and co-location?
Cloud computing is a fancy name for software and/or hardware that is available via the Internet. Co-location is high-tech real estate, or outsourced data center space, where you can operate your company-owned software and hardware.
What do we like most about a co-location data center?
Data centers in a co-location facility are more reliable. They offer greater protection from power outages because of the numerous data backups in place and provide low-latency networking options. It provides higher levels of physical protection.
Top 10 benefits of moving your data center to a co-location
The decision may not always be clear when it comes to a build or move choice. Here are some potential reasons to move to a co-location facility.
A predictable and operational expenditure model.
Flexibility and scalability that allows additional capacity (space, power and bandwidth) to be brought on quickly, cheaply.
Better access to space, power, and capacity.
Gain experienced professionals dedicated to data center management managing your infrastructure.
An ecosystem of partners in the same facility.
Lean infrastructure to manage during times of rapid business change.
Resiliency and uptime obtained with best-in-class tools providing a better road map for disaster recovery.
Up-to-date facility infrastructure responds to cooling, power and environmental changes.
Secure facility ensures data integrity.
Co-location service level agreements to ensure services are received as negotiated.
The shift to the cloud finally reaching its decisive inflection point is a notable challenge for many organizations. However, it is also important to understand how the organization plans to change IT to be better prepared for future disruptions on the scale of the COVID-19 pandemic. This might include how prepared or not the organization is for a work-at-home world; or how to be more agile as an organization. Moving toward a colo fills this gap for many.
Planning against the current market and preparing for future disruptions
Disruption has happened — now infrastructure and operations (I&O) leaders must build an innovation platform, apply cost intelligence, lower technical debt, and enable anywhere operations to be relevant in the post-COVID-19 world.
52% of I&O organizations selected "lower costs" as one of the top three important goals for the next 12 months. For some companies, one of the most expensive elements is the cost to own and operate their data center. Outsourcing a data center can be a huge cost savings.
Over the last decade, corporate IT infrastructure has played an increasing role in everyday business functionality. More organizations are relying on their IT systems to work harder, faster and more efficiently. This push towards an always-on, always-available environment created a growing market for data center co-location. Commercial and government entities are spending millions of dollars to ensure that their environments are capable of expanding directly in line with the needs of the organization. As the technology evolves, these companies have to make the decision as to which data center provider they wanted to work with. This is where many managers and administrators run into some design and planning challenges.
Leverage the insights above to begin thinking on your options, and connect with a trusted expert who can help you find the real best solution to meet your business needs, regardless of the disruptors you know of and the ones still left to come.
Jim Cali is a Principal and lead of Avison Young's data center advisory practice.