null - Commercial Real Estate Blog | Avison Young
Avison Young's commercial real estate blog
2020 Outlook for the Houston Market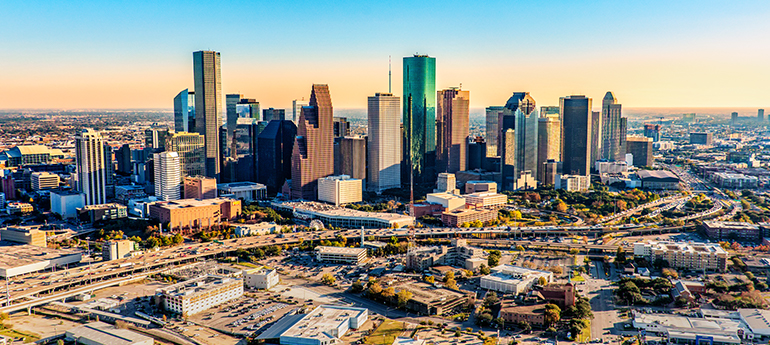 January 23, 2020
Commercial real estate in Houston, with the exception of the office market, was solid in 2019, and 2020 will be more of the same barring any major surprises. The economy over the last couple of years has been generally healthy with solid job growth and low unemployment. Withstanding a struggling upstream energy business, the overall Houston economy will continue to be positive in 2020.
Office Market Stalemate
The resiliency of the Houston economy amid a stagnant energy sector will likely stay on a positive track in 2020. However, annual job growth will decline to around 50,000 jobs from the approximate 80,000 jobs that were created in 2019. Job growth is the leading indicator for commercial real estate; however, don't expect the office market to show major strides in 2020. It will be a flat, tenant-driven market that is still reeling from the downturn in upstream energy. Capital markets for upstream energy companies are basically shutdown, leaving merely companies' available cashflow for restructuring. As a result, the office market is in for a slow, protracted recovery, without much of an improvement for 2020.

That said, there are factors that actually bode well for new construction. On the surface, with the high vacancy rate, it's not clear why there would be any new construction at all. However, large companies are looking for more efficient floorplans as well as buildings that offer a cool, experiential workplace to attract and retain the best and brightest employees. It's difficult for Houston's 1980's vintage inventory of class A buildings to compete with the new class AA buildings like Skanska's Bank of America Tower or Hines' new Texas Tower in Downtown Houston. Expect property management platforms to play a key role in achieving this experiential workplace environment in 2020. Relative to the size of the overall Houston office market, new development is certainly more of an aberration than the norm, but there is a strong likelihood that the Bayou City will see more new development in 2020, albeit, on a very limited basis.
Industrial Heavyweight
The industrial sector had a robust 2019, but there are some cautionary signs of over development as we enter 2020. With approximately 20 (msf) million square feet under development, supply is significantly outpacing demand. So, we expect that new construction will slow down this year to let demand catch up with supply. This "overbuilt" scenario will level out due to the ongoing need for space by industrial companies and retailers that are expanding their e-commerce platforms. Houston's positive growth in population and jobs will keep pushing the demand for distribution facilities throughout 2020, and with a slowdown in development, demand will catch up with supply.
Houston – Investor Interest
The overbuilt multifamily and industrial markets combined with the decline in fundamentals in the office and retail markets may reduce investor sentiment for Houston in 2020. Fortunately, capital investors recognize that these challenges do not outweigh the value of Houston's inexpensive real estate as compared to other major U.S. markets. As a result , Avison Young's research says that investment activity will stay strong in 2020.

(Rand Stephens is a Principal of Avison Young and Managing Director of the company's Houston office.)
© 2023. Avison Young. Information contained in this report was obtained from sources deemed reliable and, while thought to be correct, have not been verified. Avison Young does not guarantee the accuracy or completeness of the information presented, nor assumes any responsibility or liability for any errors or omissions therein. All opinions expressed and data provided herein are subject to change without notice. This report cannot be reproduced, in part or in full, in any format, without the prior written consent of Avison Young.